DC's Legends of Tomorrow Season 4 Episode 5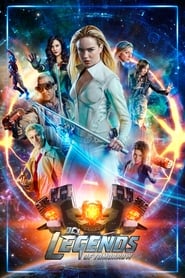 DC's Legends of Tomorrow Season 4 Episode 5
A new fugitive is on the loose in 1951 Tokyo and Sara, Zari, Rory and Charlie try to capture it. As Constantine struggles to recover, Ray knows that magic might be the only thing that can save him but must look outside the team for help. Meanwhile, Ava joins Nate and his family for an unconventional Thanksgiving dinner.
Serie: DC's Legends of Tomorrow
Director: Alexandra La Roche
Guest Star: Adam Tsekhman, Anthony David Moyer, Brady Tate, Chad Matchette, Christian Keyes, Darien Martin, Eijiro Ozaki, Eliza Norbury, Gary Peterman, Jaden Oehr, Jessica Smith, Maggie Sullivun, Masashi Shimamoto, Megan Hui, Natasha Vasiluk, Susan Hogan, Thomas F. Wilson, Vesna Ennis
Episode Title: Tagumo Attacks!!!
Air Date: 2018-11-19
Year: 2018